Tourism in
l'Île-aux-Moines
In the vicinity of the Kervallon campsite in Brocéliande, discover the Ile aux Moine, the largest and most wooded island in the Gulf of Morbihan. You can get there by boat in a few minutes.
Its landscapes will give you a change of scenery, the old town will seduce you with its small flowery streets and its fishermen's houses. On foot or by bike, explore the island on its 14 km of paths.
Visit the Ile-aux-Moines during your holidays
The Île aux Moines is nicknamed the "pearl of the Gulf of Morbihan" for its beauty. Its size makes it easy to visit on foot or by bicycle. 14 km of green paths run through it. A remarkable small built heritage can be discovered, which tells the story of the place in its own way: houses with thatched roofs, church, chapels, calvaries and fountains. You can also discover important Neolithic remains on Île aux Moines: the Kergonan cromlech, one of the largest in Europe, and the Penhap dolmen, particularly well preserved. Another pleasant site to visit with the family is the park of the Château du Guerric, which houses the Sainte-Anne chapel built at the end of the 17th century. After a visit to an oyster farm and an oyster tasting, you can also enjoy the beaches and the many water sports available on the island. In summer, don't miss the unmissable events on Ile aux Moines: the Escales musicales and the Festival de la voile.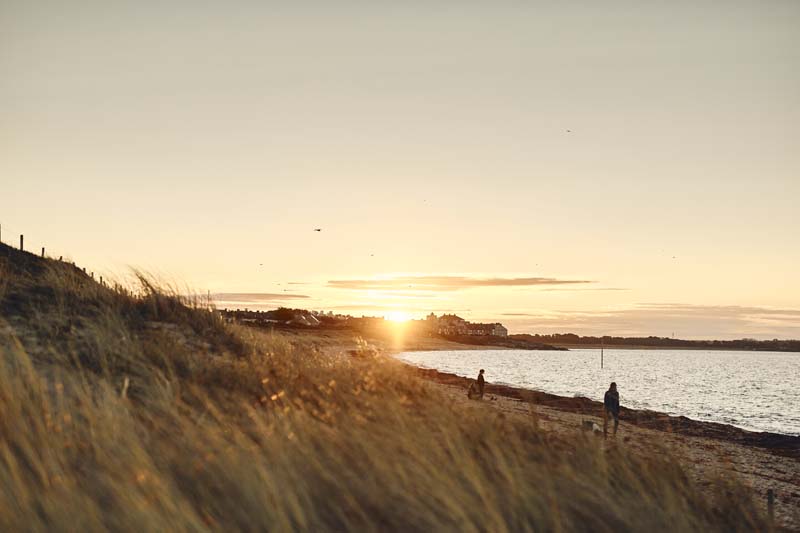 The landscape of the Ile-aux-Moines
Every day of the year, a shuttle bus will take you to Ile aux Moines from Port Blanc, leaving every 30 minutes. This small island with a perimeter of 17 km has an exceptional natural heritage that is ideal for walks, hikes or bicycle tours. Bicycles can be rented on site. On the Ile aux Moines, heather hills alternate with small woods with charming names and pretty beaches which are revealed at the bend of a path. A cross-shaped island named by the monks of Redon Abbey, Ile aux Moines comprises many points which open onto exceptional panoramas: among them, the point of Trec'h opposite the point of Arradon, the point of Nioul with its view of the Rhuys peninsula, or the Pointe de Brouel which faces the l'île d'Arz. Don't miss the exotic charm of this island with its unique views of the Gulf of Morbihan.