CAMPSITE NEAR
ROC-SAINT-ANDRÉ
Roc aventure is 85 workshops for all the family, you will discover 8 courses, the chaffinch course is accessible from 2 years old and for the more experienced you can be frightened on the Bear course and why not on the Sparrowhawk course. For an afternoon close to the treetops, come to Roc Aventure near the Domaine de Kervallon in Brocéliande!
Outdoor activities in Brocéliande: tree climbing
Fancy a fun and unusual break just a short distance from the campsite? Come and discover Roc Aventure and its acrobatic course in the trees. Located in the heart of the campsite domaine du roc, in the commune of Val D'Oust. 8 thematic courses are offered to you, from 2 years old, but also up to adulthood, without forgetting the most hardened sportsmen. Each course represents progressive levels of difficulty. Before venturing onto these courses, each participant must undergo a short training course on a learning range.
The aim of this learning module is to introduce you to the handling of materials and equipment and the safety rules to be observed. Each participant will be evaluated by a facilitator. After the validation, it's time for the sensations!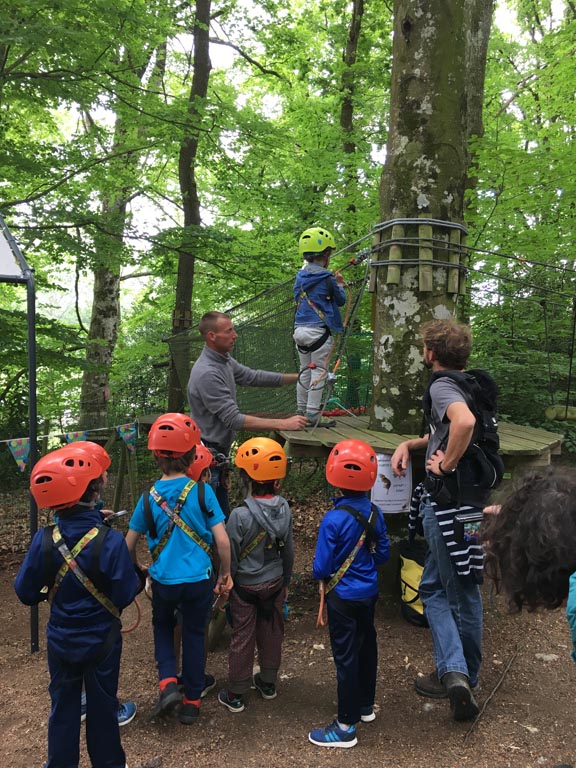 Good to know: some routes such as the Bear and Sparrowhawk cannot be done directly, you will have to go through other routes such as the Blue or the Marmot, in order to access them. Why does this work? A muscular warm-up is necessary before tackling certain difficult courses, the passage through gentler stages will allow you to gradually prepare your body for the effort. A fun experiment in which you will play the adventurer, hanging from the vines, abseiling, let yourself slide with the zip line and feel the unique sensations.
An adrenaline-filled adventure that will leave you with fond memories.