Rent a caravan for 4 people
in Morbihan
Envie de vous initier au glamping en Bretagne ? Le domaine de Kervallon vous invite à dormir dans une roulotte tsigane, un hébergement atypique qui rendra inoubliable vos vacances ou votre escapade dans le Morbihan.
A romantic and cosy caravan in Brocéliande
You are looking for a unique and magical experience for two and you have thought about renting a mobile home in the Morbihan. Why not go one step further and surprise your soul mate with an unusual accommodation? Embark on a bohemian adventure and enter the skin of a nomad by booking a caravan rental in Broceliande in Morbihan. This luxury caravan-style accommodation is fully equipped and guarantees a fabulous stay for couples. Our modern and comfortable caravans are 20 square metres in size and can accommodate up to 4 people. When you step inside, you will already feel like you are on a great adventure. They have a fully equipped kitchen, a bedroom with alcove bed, a bathroom and a separate toilet. The furniture, which is also out of the ordinary, will transport you at any time to the end of the world without having to leave Brittany.
Night, weekend or stay in a caravan in the 56
In the Morbihan countryside, after a night in a gypsy caravan in your double bed in complete privacy, you will tend to forget that you have just slept in an unusual accommodation in Brittany. When you open the door of your incredible caravan, you will see the terrace and the park in which the Domaine de Kervallon is located. You will have only one regret: having forgotten your horse to pursue your nomadic life. Would you like to experience this great adventure together? Book your caravan now for a night, a weekend or a week. Please contact us if you would like more information about our prices, the equipment of our caravans, our other original accommodations, the campsite facilities and services. You will love the bohemian spirit that was once the nomadic home of our gypsy friends. You can also spend a night in a safari tent in Morbihan during your escapade glamping in Brittany!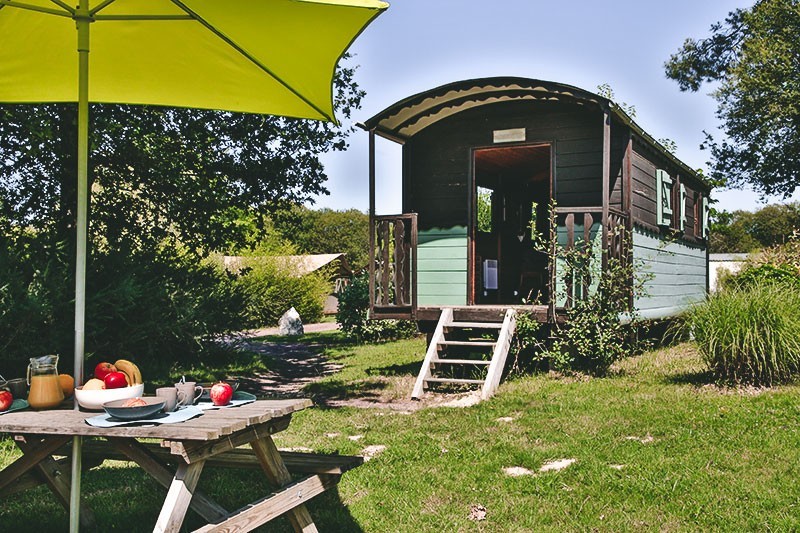 Other mobile home rentals in Morbihan
Our 4-star open-air village in Morbihan offers many mobile home rentals in Morbihan. Organised as a themed village in a large landscaped park of over ten hectares, you will enjoy your mobile home in the Morbihan. Most of the plots where the mobile homes are located are larger than 250m². Our mobile homes can accommodate from 4 to 8 people in our Morbihan campsite. Three mobile home villages stand out at the Brocéliande campsite:
The mobile homes cabanon ideal for 4 people,
The mobile home village for 6 people with the Breizh home
The latest addition is the village of 6 TAOS mobile homes with private SPA
All our mobile homes are clad in wood for a perfect integration in their environment. The greening of the spaces allows us to offer leisure accommodation in perfect harmony with the surrounding nature.
Other unusual rentals in Morbihan